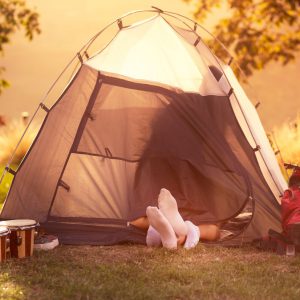 Teddy Bare Picnic is an outdoor, weekend-long event that celebrates sexuality and music. This event brings together couples from all over Canada and the US. But WHO attends this event?
Well, "Couples" is the obvious first answer, as this event caters specifically to open-minded, committed couples interested in a clothing optional weekend without the kids. Single Ladies are welcome as well, but single men are not allowed. This keeps the male/female ratio as even as possible, creating a safe, inviting atmosphere. Let's face it. If we allowed single men to attend this event, it would be more than half single guys. And that's not our goal.
Perhaps in part because of this stipulation, our regulars return year after year and recommend our event to their friends. This is why the event has grown exponentially until we have sold out the last few years. We're so very proud of what we have created and maintained for 12 long years!
As for the age of our attendees, we see ages ranging from early 20's to retirement age, but it seems to be mostly those in their 30's to 50's. There really is no predominant age group though. And no one seems to care. Everyone mingles and parties together despite their age differences.
While there are a few rooms to rent in the main building, these are reserved early, often for the following year before they leave the grounds. With hundreds of attendees at this event, most everyone brings a tent, camper or RV to stay in while at TBP. We see veteran campers that love to Glamp, meaning they decorate and create a glamorous camp experience for themselves. Others are camping for the first time. Not to worry, if this is you and you arrive without all the basics, there's always someone there ready to lend a hand or a forgotten item. That's part of the beauty of this event: inclusivity!
All of our attendees understand this is an OUTDOOR event, and that we have no control over the elements. All of our guests are outdoorsy and can roll with whatever Mother Nature throws at us. Of course, there is a large pavilion on the grounds where we can gather if the skies really open up. But for the most part, when it rains, we go with the flow. Meaning: Get naked and go for a stroll!
Our attendees also seem to be extremely low maintenance, enjoying what we can and ignoring what we can't. They are also fun loving, open minded and adventurous. They love meeting other fun couples and making friends, often making plans to meet back at TBP next year, if not before.
Many of our attendees are swingers on some level, but not all. Many are simply looking to experience something exciting outside their normal life. Others are nudists, exhibitionists or voyeurs. Some are looking to learn a new trick in the bedroom, and others are just looking for a sexy vacation that does not include kids.
So, as you can see, you'll fit right in! Gather your camping gear, pack light, and get yourself to Teddy Bare Picnic this summer! August 7-11th! You'll love the atmosphere – it's like Woodstock for the Naughty!